What is a Video Perk?
A Video Perk is a thank you from the brand directly to the viewer for their attention. This value exchange grabs the initial attention of the customer and encourages them to engage to learn more. Watch a short explainer video here on what a Video Perk is and different kinds of Video Perks.
Who provides the Perk?
You​ are in control of choosing relevant perks for your users. You are also responsible for distributing the perk to the user(s). Vieworks also offers the possibility to select perks and distribution from one of their 1000 partners. ​
Do Video Perks really work?
Rewarding users for their attention is a proven method. Once a user sees your video content and shares their data, the likelihood they become a customer significantly increases. A perk is a great method to get them to listen to what you have to offer. ​
Is the tool GDPR compliant?
Yes, to claim the video perk users select opt-in to share their data with your business and agree to receive communication from you. ​​
Who owns the data?
You own your user's data. Vieworks does not use or share any user data. It is held and transferred securely​.
Will there be Vieworks branding in my campaigns or the UX ? What kind of branding can I expect? 
1. Links are set by your brand and run on videoperks.io which is not Vieworks branded (i.e. Starbucks.videoperks.io)
2. The emails to the user have your logo in and are from perks@videoperks.io (unbranded) - There is a legal reference to Vieworks in small in the footer.
3. You upload your logo which is included throughout the journey of the widget. Only powered by vieworks.io is referenced in small text at the bottom of the widget.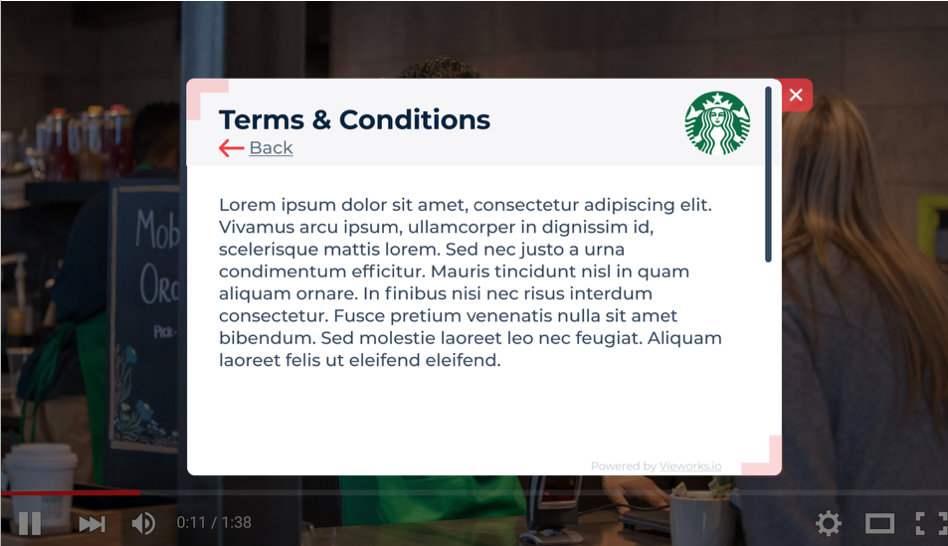 Will this integrate into your other CRMs or software?
Yes, of course. It easily integrates into the most common tools you are already using through an easy to use CSV export. Vieworks has heaps of integrations! 
For integrations what is Zapier?
Zapier is a service that you can use to connect apps and automate different tasks. You can integrate your apps and tell Zapier what you want to accomplish. It is essentially a way to build workflows to accomplish simple tasks automatically.
For Zapier integration, is it a native integration?
Yes Zapier it is a native integration here
What exactly do I get when I sign up?
You get access to the platform dashboard which enables you to insert your Youtube or Vimeo links and set up a campaign. You can publish the newly generated video embeds on your landing pages or website. Plus share the links in paid ad campaigns or on social media to generate traffic. You will also have access to analytics and user data. 
What do I need to get started?
You need to have a marketing video you want to have seen. 
You need to have a reward or perk to give away. This could be a discount code, competition prize, small reward, or free sample.
Finally, you need a website or social media channels and some ad budget to promote it. ​
How many new clients will I get from this?
Vieworks doesn't give you clients, they give you qualified leads that want to talk to you and are engaged with you. Your results will be unique to you and your business. If you have a great offer and a proven sales strategy, you will see results. 
Can I localise the language of Video Perks for my user?
For the Video Perks overlay, the user experience can be localised up to 80% as seen in the image below. Main elements that will remain in English are "continue watching","play now" and "claim your perk" button.
Refer to this article to read more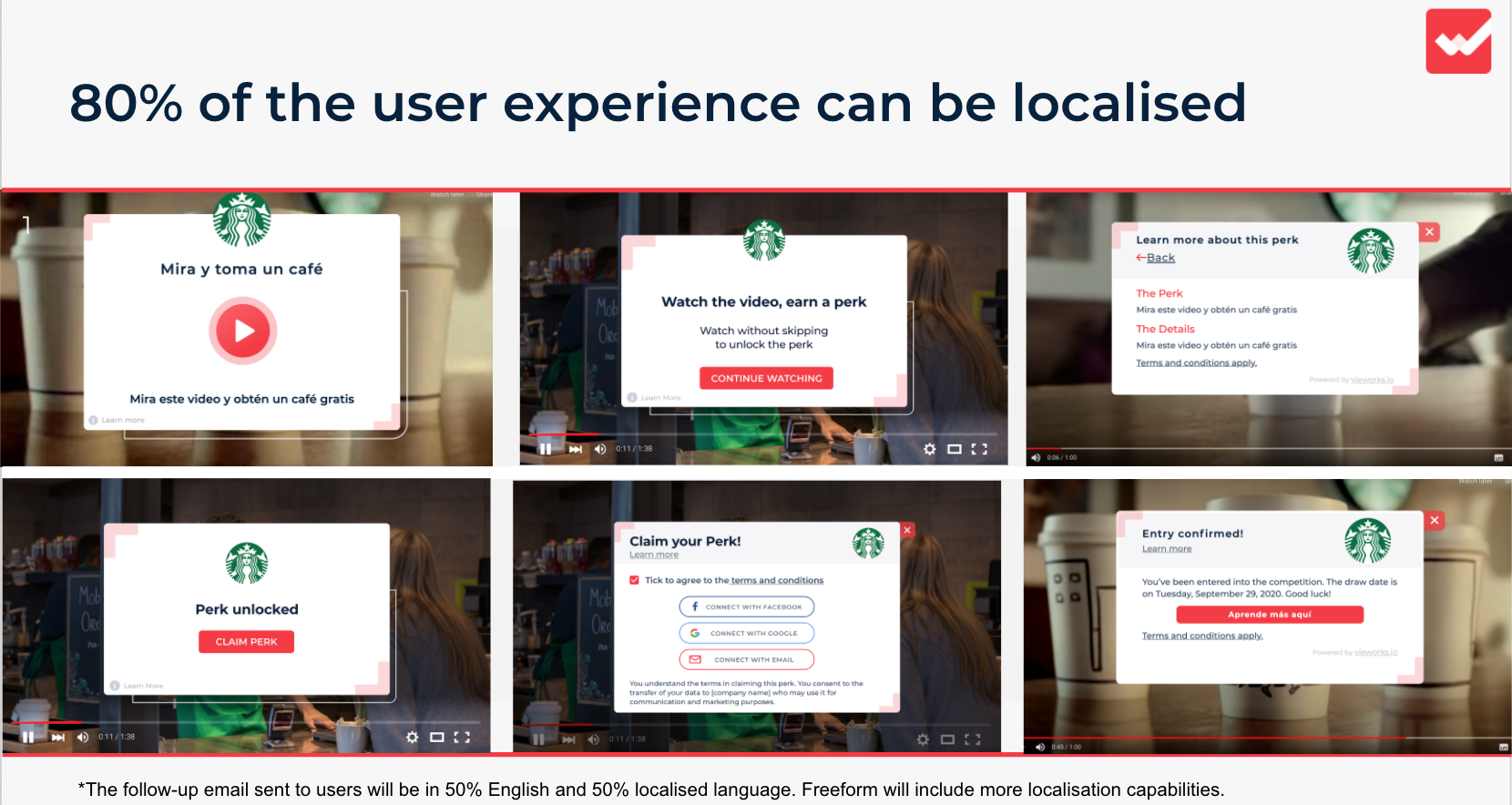 ​Is it hard to set up a campaign?
No, it's very easy. Watch a tutorial here to learn more about how to step up a campaign.
How are you different from other interactive video players in the market?
We are the only interactive video player rewarding users for their attention and capturing engagement.
Is value exchange advertising the same as incentivised advertising?
The answer is no, video perks and value exchange are different to incentivised (rewarded video), as the user is not forced to watch to get something. Also, the gifting of the perk is between the advertiser (not only the publisher) and the customer, forming a relationship. Additionally, Vieworks runs across all digital destinations, unlike rewarded video which traditionally runs on mobile games. Read more about the differences between rewarded video and value exchange advertising here.
If I have reached maximum capacity do I need to upgrade my Vieworks LTD plan (after the deal is sold out)?
Yes, you will have to upgrade your Vieworks LTD plan, no worries! It is very easy to do, simply get in touch with our account managers at info@vieworks.io and they can upgrade your plan for you accordingly. We have different scale up options on our website seen here : https://www.vieworks.io/pricing
Why is Vieworks Important?
Video is the most powerful vehicle for selling products and services. Yet according to the IAB, $1.2b is wasted a year on serving video marketing that audiences do not complete or where no data is collected. 90% of marketers agree it is hard getting their video content seen.
With increasing CPM's and CPL's, falling attention spans, and an overwhelming level of competition from offers and content, it is an upward battle for marketers to cut through. Consumers today are demanding value exchange interactions. 68% of users want to learn about new products and services through short videos.
70% of consumers prefer watching marketing content that offers a reward. Value exchange strategies are amongst the fastest growing marketing trends as consumer behaviour evolves.
Support Email - info@vieworks.io